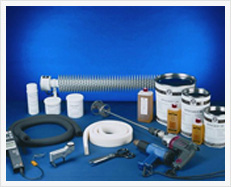 EPOCAST 36®
EPOCAST 36® is a two-component pourable chocking compound with excellent physical characteristics replacing the conventional method of steel chocks when used for mounting main and auxiliary engines, gear boxes, steering gears, thrust bearings, stern tubes, etc.

EPOCAST 36® chocks are not only econimical to fit but offer additional benefits such as their ability to fill any reasonable irregularity in the chocking interface and to reduce noise and vibration.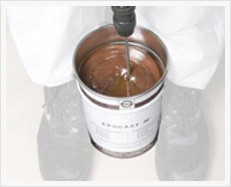 EPOCAST 36-P
EPOCAST 36-P is a trowelable two-component epoxy paste which was specifically developed for installation of LNG/LPG tanks, chemical tanks and containment systems. EPOCAST 36-P is a further development of the worldwide proven chocking and grouting system EPOCAST 36® and is everywhere in application where it is not practical to use a freely floating resin.
EPOCAST 36-P can be heavily loaded and has good adhesive properties even at extremely low temparatures.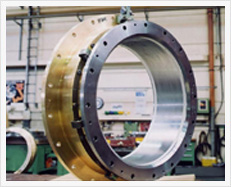 EPOCAST EPM
EPOCAST EPM is a trowelable two-component epoxy paste which due to its exceptional high standard fillers is absolutely corrosion resistant. EPOCAST EPM conforms to any shape and cures quickly to form a tough, abrasion and chemical resistant coating for long lasting and cost effective repairs.

EPOCAST EPM has proved itself in many different applications such as pump casings, impellers, cavitation damages, repair of corroded hull and deck plating and smoothing of weld seams.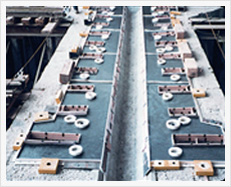 EPOCAST D
EPOCAST D is a two-component pourable chocking compound which is primarily used for mounting of industrial plants. It is used for applications where the expected foundation temparature does not exceed 60°C.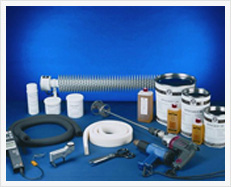 EPOCAST F
EPOCAST F is a two-component resin system enriched with high-grade fillers. It is designed for use wherever there is a need to join different components and ensure a permanently flexible seal.

Low heat production during the curing process even under high chock conditions, and smooth, pore-free surfaces are the outstanding features of this product.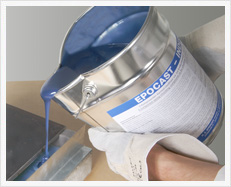 EPOCAST INDUSTRIE
The two-component pourable chocking compound is engineered for use wherever critically aligned reciprocating machinery, heavy duty rotating equipment subject to high dynamics is installed. It is also best choice for applications that have to withstand deteriorations from chemical environments.
Due to its low viscosity and to its low curing temperature as well as to its first-rate stability
of adherence and its resistance to chemicals it is in the best way suitable for applications
in the construction of power-stations and industrial plants. Because of its excellent material properties (compressive strength 155 N/mm²; service temperature of machineries from -100°C to +80°C) makes it also the best solution for pumps, compressors, turbines, diesel engines and generators or crane rails and many
more applications.
CELLOFLEX Propeller shaft coating
Propeller shafts of twin screw vessels often lie freely in water and are therefore subject to intense corrosion caused, among others, by vagrant currents. The CELLOFLEX -coating has been developed to serve the purpose of protection against this corrosion. As far as shafts of whatever diameters are concerned, it has proved its excellency a hundred times.
The CELLOFLEX-coating represents an absolutely reliable corrosion-protection for outboard shafts.